Anchor Grip –Basement Waterproofing Membrane
Anchor Grip an innovative composite plastic waterproofing membrane is made up of a flexible composite plastic membrane sheet with uniquely designed closely spaced L-shaped anchor grips. This serves to firmly bond the membrane with the concrete surface during the casting of concrete and leaves no gap for water penetration. They are made in a straight and square grid design to create locking extensions for the membrane.
It is the most trustworthy and effective waterproofing membrane because even if the membrane is damaged, the water will be blocked between the L-shaped grips and won't allow to spread underneath the membrane.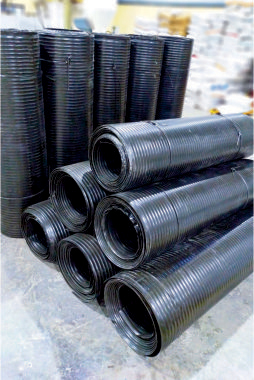 Also, an Innovative Anchor Grip basement waterproofing membrane is very affordable, simple, and quick to install. It provides 100% waterproofing guarantee with extended durability and can reduce waterproofing costs by almost 50% when compared to other conventional systems.
Product Specification
Thickness: 1 mm to 1.20 mm
Width: 1.8 m
Length: 15 m
Weight: around 1500 GSM
Material: Innovative prime quality Composite Plastic polymer
Product Applications
Best suited for basement waterproofing
All underground structure waterproofing
Retaining Walls protection and waterproofing
Water Storage Tanks waterproofing
Sewerage Treatment Tanks waterproofing
Sewer Water Channel waterproof Lining
Sewerage RRC Pipe anti-corrosion Lining
Numerous more underground structure waterproofing treatments
Product Benefits
Unique product for almost all underground structure waterproofing and protection
Quick and simple to use
Time and labour savingn
Much economic than other waterproofing products
100% waterproofing assured
Thin and light weight material
High tear and puncture resistance
High pressure water permeability
High elongation and crack bridging properties
Highly versatile and durable material
Excellent flexibility and tensile strength
Resistant to underground gases and salts
With little training application can be done by semi-skilled workers