Geo-Proof- Multi Application Waterproofing Membrane
Geo-Proof Multi-Application Waterproofing Membrane is an innovative waterproofing membrane that is made up of thermally bonded three layers. The middle layer is composed of impervious flexible composite plastic polymer, while the top and bottom layers are constructed of specifically crafted fibrous non-woven fabric. This element makes it a unique multi-application waterproofing membrane. This membrane's unique feature is that it may be utilised for a variety of waterproofing applications in building construction, including foundations to overhead water tanks.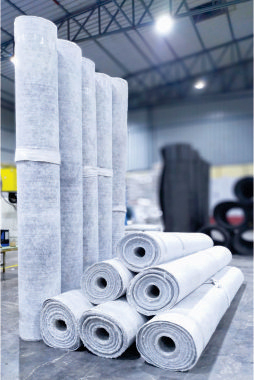 It is a single product that can be used for practically all waterproofing applications. It is also very quick and simple to apply and is most cost effective waterproofing solution for all kinds of waterproofing, that provides 100% waterproofing and great durability. Applying it only requires three easy steps: cleaning the surface, using a high-quality cement base adhesive, and placing the membrane on top of it while exerting roll pressure.
Product Specification
Thickness: 1.00 mm to 1.2 mm
Width: 1.8 m
Length: 20 m
Weight around 1000 to 1100 GSM
Top and bottom surface with hairy fabric thermally bonded with central layer of Impervious Innovative Composite Plastic polymer.
Product Applications
Practically all building locations, including the foundation of buildings, roof terraces, and all wet and dry places, including but not limited to:
Roof Terraces waterproofing
Attached terrace balcony waterproofing
Toilets, utility and all sunken wet areas waterproofing,
Round cap sleeves for sealing pipe joints
L shaped corners for sunk waterproofing ( need to rewrite this)
Door window jamb, wall skirting waterproofing
Entire apartment floor waterproofing
Precast/panelled partition wall anti crack lining
External wall damp-proofing in high rainy regains
All types of water bodies waterproofing it may be small or large,
UGT and O-H water tanks, STP, swimming pool etc. waterproofing
Small to large podium slab waterproofing
Expansion joint waterproofing
Flower bed waterproofing
Basement retaining wall waterproofing
Product Benefits
One product for all waterproofing applications
Strongly bonds with concrete surface, preventing water to spread under mebrane surface
Easy and fast to apply
Time and labour saving
Toilet waterproofing can be done in a few hours.
Cost Effective than other waterproofing products
100% waterproofing assured
Thin and light weight material
High tear and puncture resistance
High pressure water permeability
High elongation and crack bridging properties
Highly versatile and durable material
High tensile strength and flexibility
Resistant to underground gases and salts
Simple pasting using good quality cement-based adhesive
With little training application can be done by semi-skilled workers